There are two teams : either you like pain d'épices or you don't. So if you love this kind of loaf cake you must try this one. If not, you can always check my blog for more loaf cakes recipes, and trust me there are a lot.
This Pain d'épices is soft, moist, full of warm and comforting flavours. It will smells holidays all over the house while you'll make it. It's so delicious you'll welcome a slice any time of day or any day not just during the holidays.
The pain d'épices is made with flour, a generous amount of honey and a blend of spices. While the literal translation is "spiced bread", it's mistranslated as "gingerbread", but has nothing to do with the American gingerbread, made with molasses, eggs and spices.
The recipes vary across France: they contain flour, a mix of spices like cinnamon, cardamom, nutmeg, pepper, or cloves. Some regions use only anise to flavour the cake. And of course honey, and there too we find several honeys that we can use.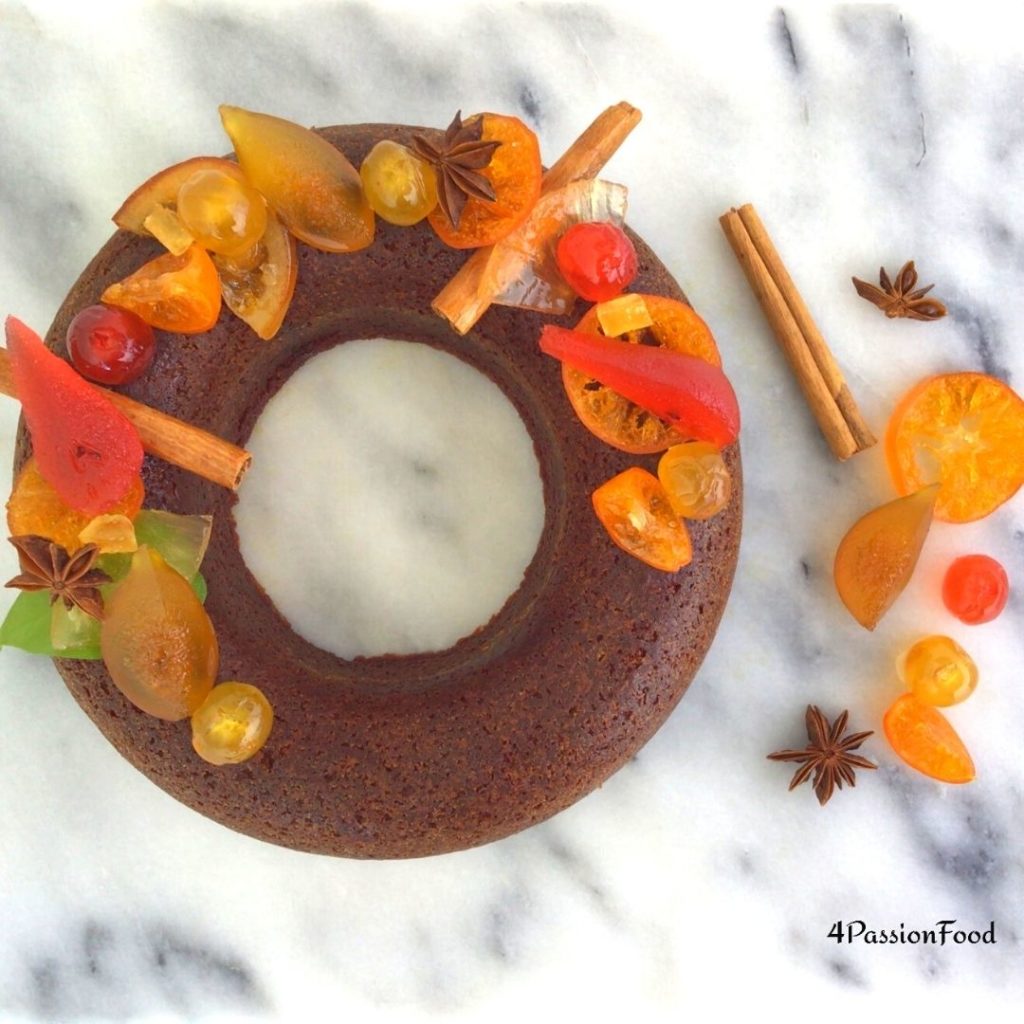 What do you need to make this pain d'épices ?
There are as many variations of the recipe for pain d'épices as there are regions in France. But still flour, a good amount of honey and a spice blend are the key components of a classic "pain d'épices" or French Spiced Bread If you want to translate it.
Usually the pain d'épices is made with rye flour, wheat flour, or a combination of the two. But for this recipe chef "Claire Heitzler" uses regular flour.
She also uses honey, as it's a major ingredient of the bread, the quality of the honey is very important. Use a high-quality, the chef advises to use a strong one like thistle, chestnut or buckwheat honey. Which has a deep flavour and will perfectly flavour your bread.
For this recipe chef Claire Heitzler uses a pain d'épices blend and 5 spices. The pain d'épices spices contain : cinnamon, green anise, fennel, coriander seeds, ginger, clove, cardamom, nutmeg and black pepper. I used "Terre exotique brand".
The pain d'épices is a holiday staple in France. It's often served with foie gras or with cheese.
But you can serve it for breakfast or for an afternoon tea, with jam or orange marmelade if you want. It's not too sweet, even with the big amount of honey but because we use a strong honey it doesn't make the pain d'épices too sweet.
How to make it ?
It's easy and quick to make and doesn't require any weird ingredients or appliances necessary.
In a medium saucepan mix the water and sugar, bring to a boil. Remove from the heat then add the honey. Set aside.
In a big mixing bowl, mix the dry ingredients. Once the mixture honey comes to 40C add it to the dry ingredients In three additions. And mix until all combined. Then incorporate the melted butter. 
Cover with a cling film and let it rest overnight In the fridge.
The next day you can add the candied fruits or citrus lightly coated with flour if using. 
Because of the proportion of honey, the loaf tends to stick to the pan. To ensure the loaf releases easily from the pan, use a non stick loaf pan or grease and line the pan with parchment. This will be easy if you're using a regular loaf pan. But if you use the savarin loaf pan like mine, make sure to butter and flour the loaf pan very well. Then Bake.
The cake keeps well and actually improves over time. Pain d'épices should keep for up to a week if stored correctly wrapped in plastic.