When you hear "gnocchi", you automatically think of the classic type of gnocchi or "gnocco" as Italians say, which are dumplings often made from mashed potatoes or ricotta. But before potatoes and corn for polenta came to Europe from the Americas, Romans made custardy dumplings from semolina flour : « Gnocchi alla romana » or « Roman Style gnocchi », also known as « Semolina Gnocchi ». They are made with semolina flour, parmesan cheese, milk, and butter. But unlike potato gnocchi, these are baked, not boiled.
Gnocchi Alla Romana it's a delicious traditional Italian dish, rich but very light. They have a cheesy, soft and buttery texture in the inside and a slightly crispy crust outside.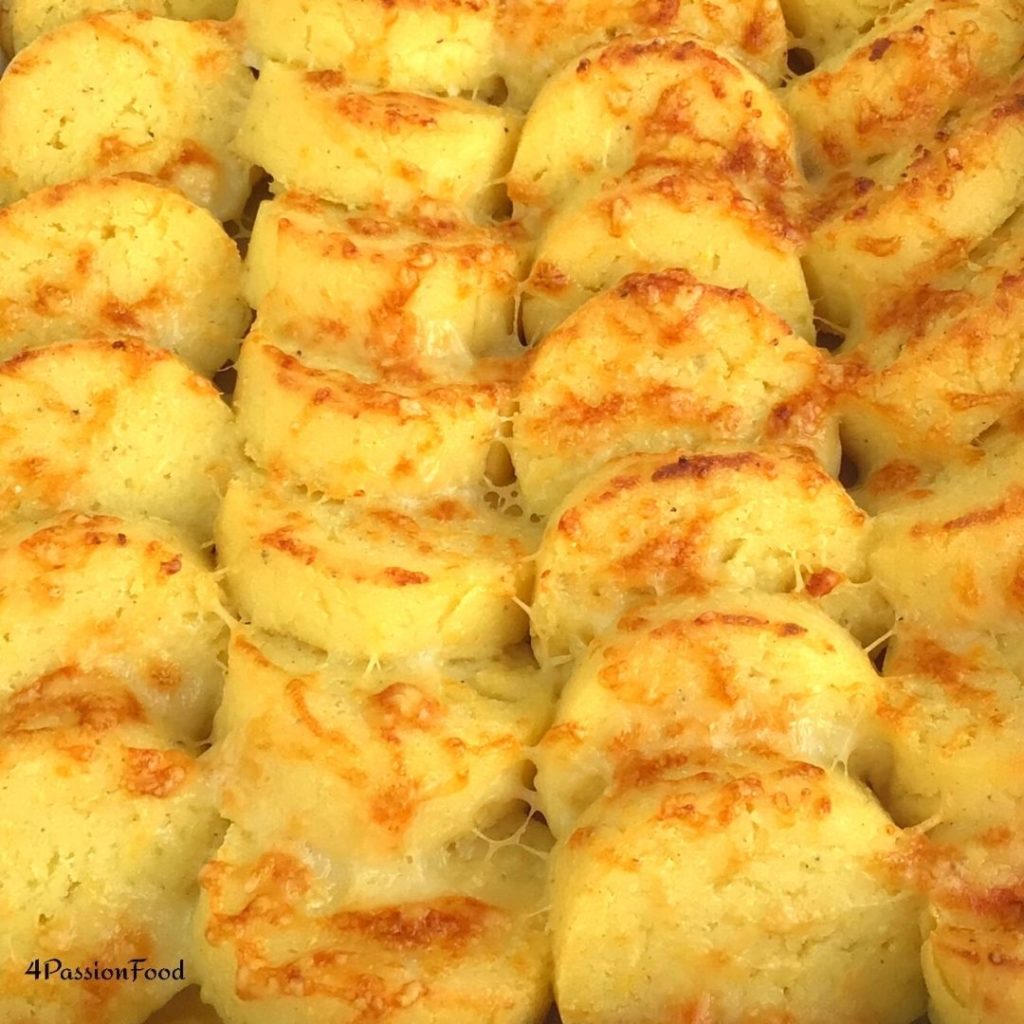 What do you need to make the gnocchi alla romana ?
The recipe is from one of my favourite books « Simple – Ottolenghi », the ingredients are simple nothing complicated.
Whole milk
Egg : you'll need only the yolk.
Semolina : which is a coarse flour made from durum wheat. For this recipe you can use either fine or coarse semolina. But i really advice you to use the fine one.
Butter : ottolenghi uses unsalted butter and adds a teaspoon of salt.
Parmesan as the traditional version requires. And some matured cheddar to sprinkle on the top, you can substitute it with any cheese you love, Gruyère, parmesan …
For the seasoning you'll need salt, pepper and 1 teaspoon of finely grated nutmeg.
How to make them ?
Gnocchi alla Romana can be prepared ahead and baked at the last moment.
First put the milk and the butter on a medium saucepan with salt and a good grind of black pepper. Place on a medium high flame until the butter has melted and the milk is simmering. Then add the semolina, egg yolks, nutmeg and parmesan out of the heat, whisck until everything is well combined. Put it back on the heat, and continue whisking for 3-4 minutes until the mixture starts to come away from the sides of the pan. Leave to cool before you make two logs about 38cm long and 4cm wide. Refrigerate for 2 hours. Cut each log into 1-1/2 cm thick slices. Arrange them in slightly overlapping rows on a large oven dish, sprinkle with extra cheese and bake for 15 minutes. Then grill for 3 minutes to get a nice golden brown crisp crust. Leave to rest 5 minutes before serving it.
You can serve gnocchi alla Romane on its own as a main course with some fresh salad with a simple vinaigrette dressing or as side dish for your meat, like this amazing meatballs with tomato sauce.
They are absolutely amazing and all I can say it's a must try if you have never had them before.