Certain recipes only call for egg whites, like this Gianduja & orange blossom cake or this amazing amaretti from Ottolenghi, to name few recipes that I already shared with you, so it will be great to use up egg yolks. You may think to make a lemon curd or crème brûlée, which is perfect when you have 2 or 4 egg yolks leftover. But , what do you do when you end up with 11 or 12 egg yolks ? That was my case last week, when I had made a lot of hazelnut friands and amaretti for charity organised by my husband's company.
I started looking for recipes that only require egg yolks, and I found this wonderful recipe from my favourite pastry book « La Pâtisserie ». Let me tell you something, this is the best marble cake I have ever had. It's light, moist, incredibly delicious and a great way to use leftover egg yolks.

What is this marble cake made of ?
1- Vanilla batter
2- Chocolate batter
3- Vanilla syrup
4- Crunchy layer made with milk chocolate, hazelnut praliné and feuilletine
5- Chocolate almond glaze
It's actually easier to make than you would think.
This marble cake recipe is everything you want to taste in a marble cake. It's fluffy, tasty and has the perfect balance of both vanilla and chocolate flavour.
Some recipes have one base cake batter, and then flavour a portion of that batter by adding a cocoa powder or melted chocolate to make the chocolate batter. But when you do that, you'll inevitably change the texture of the cake. You will end up with a very dense chocolate cake mixed with a lighter vanilla cake. I really invite you to try this way of making a marble cake. It will take 15 minutes to make both batter, but at least you will have the perfect texture that you're looking for in a cake.
This cake looks pretty as it is with its beautiful swirls, you can learn how the chef makes them by watching this video . Or follow the my way to do it.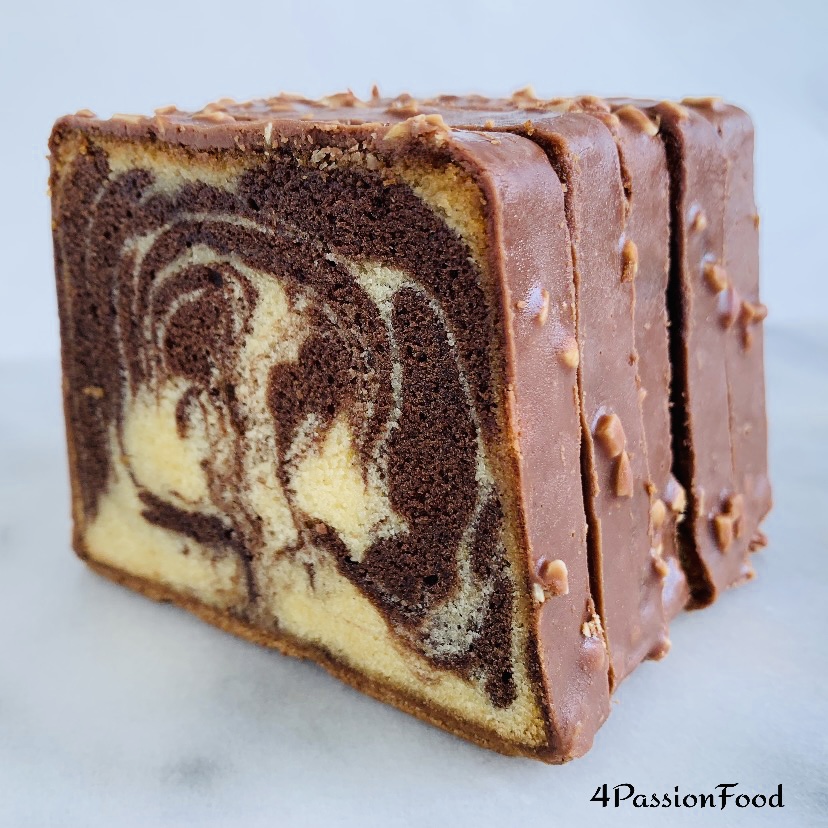 If you want, you can make it prettier and more presentable by adding the chocolate glaze. It's not much effort and makes it look irresistible and elegant. Perfect to serve at an afternoon tea party or a birthday.