If you have visited Greece you're certainly familiar with this classic dish "Greek stuffed vegetables yemista".
What is "Yemista" ?
Go to any Greek taverna and you'll find Yemista on the menu. Yemista in Greek means "stuffed" or "filled with". It's a traditional Greek dish of stuffed summer vegetables with rice, herbs and grated vegetables, then baked in a tomato sauce and plenty of olive oil.
Tomatoes and bell peppers are the most popular but you can use any vegetables that you like. They may contain minced beef, but during my stay in Naxos I only had the vegetarian version which I loved.
What do you need to make Greek stuffed vegetables "Yemista" ?
Vegetables : the most popular are bell peppers and tomatoes. You can use any seasonal vegetables such as aubergines (eggplants) and zucchini (courgettes). In this recipe I used tomatoes and bell peppers to stuff and grated aubergine and courgettes in the filling. You'll also need onion, spring onion and garlic.
Rice : you need to use short or medium grain rice like arborio ( risotto rice).
Herbs : in this recipe I used plenty of fresh herbs such as dill, parsley and mint. 
Olive oil : "Yemista" belongs to a group of dishes known "Ladera" (in Greek it means in oil or with oil). Which means you'll need a lot of it, don't upset Greek people by using just a little, and of course choose a good quality.
For the seasoning I used salt and black pepper.
Yemista is a traditional Greek dish and like most traditional dishes, it has countless variations. So every family has its own version depending on which region you are in Greece. So apparently pine nuts and raisins are added in the Mediterranean part of greece, while minced beef or pork is more common in the north of the country. I'm from the Mediterranean so my choice was easy and above all, I wanted to try the recipe that I tasted in Naxos and that I loved so much. So I added :
Pine nuts : it's little expensive I have to admit it, but you'll not need a lot (25g). As you can leave them out it will stay delicious.
Raisins : It adds an interesting sweetness to the filling.
I added salted capers it's so delicious and balanced very well the rest of the ingredients.
How to make Greek stuffed vegetables "Yemista" ?
Making "Yemista" it's easy but may take some time, about one hour to prepare the vegetables and the filling and one and half hour to bake them. You can prepare the filling and stuff the vegetables a day before and bake them the following day. Yemista is delicious at room temperature, which makes it a perfect dish when you're hosting.
First prepare the vegetables. For the tomatoes scoop out the flesh with a small spoon. Grate or blend the tomatoes flesh and keep for later. For the bell peppers slice the top and remove the seeds.
Now make the filling, sauté the onion and spring onions for 5 minutes. Then add the garlic cook for one minute and add the grated vegetables continue cooking for another 5 minutes, before adding the rice. Add half of the tomato puree, simmer for 5 minutes. Turn off the heat and add the rest of the ingredients. Place the stuffed vegetables on a baking tray, pour the remaining tomato puree and drizzle with olive oil. Cover and bake at 190C Fan for 1 hour, then take off the foil and continue baking for 30 minutes.
Serve it with some Feta cheese or skip it if you want to keep it vegan. This Greek stuffed vegetables "Yemista" is very delicious it really takes me back to Naxos.
For more stuffed vegetables dishes, check this "Middle Eastern stuffed eggplant" or "stuffed courgette with pine nuts salsa"
My trip to Greece :
Let me tell you about my summer holidays that I spent in Greece, and more specifically in two greek islands : "Santorini" and "Naxos", which explain the choice of my recipe.
Visiting the Greek Islands was a trip that has been rescheduled more than once because of covid.
The first night was in Santorini – Fira. The next day in the morning we took the ferry to go to "Naxos", the largest and the greenest island of the Cyclades in the Aegean Sea, where we spent one fabulous week.
There are a lot of things to do in Naxos :
Chora : Naxos town.
Let's explore « Chora : Hora pronounced khora », the beating heart of Naxos and was also the starting point of our adventure. The town is small and we could do it in one day. But since we were there for a week, we took our time to visit every part of the city almost every day.
It was very nice to walk and discover how beautiful and unique the capital of Naxos is. Rustic and charming streets, simple white houses with colourful doors and pink bougainvillea flowers everywhere. All streets are full of history, art gallery, shops for souvenirs, hidden restaurants and cats. Chora has preserved its character over time and it's same for Chalki and Apiranthos.
It seems like time has stopped in Naxos, which actually makes the charm of this island.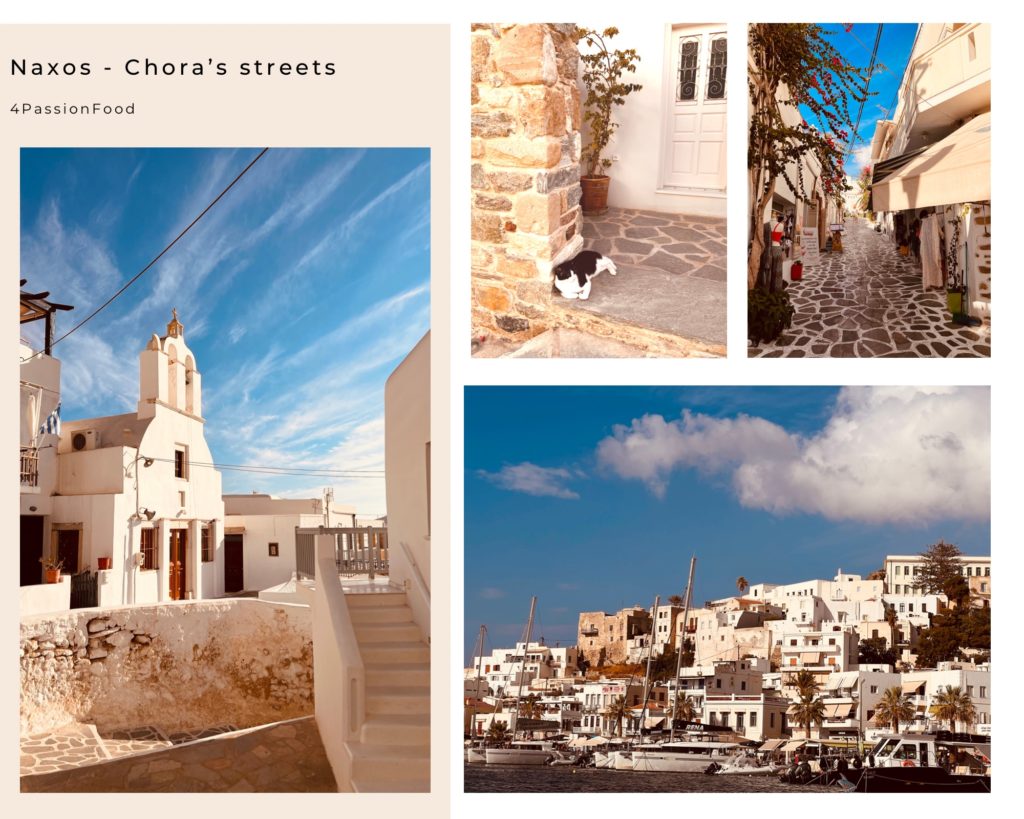 The trademark of Chora is the « Portara ». The first thing you'll see from the port and the only standing remnant of the temple dedicated to the Greek god Apollo, which dates back to 2500 years. It's the most iconic sight in the cycladic island and watching the sunset from this great marble gate is a must. Just keep in mind that taking a picture of Portara during august is just a mission impossible, even Tom Cruise couldn't do it.
From the Portara you can see the Glezos tower, the most distinctive and best preserved element of the Kastro (castle). The castle was built in 1207 under the venetian conqueror Markos II Sanoudos. Walking there was so quite and peaceful.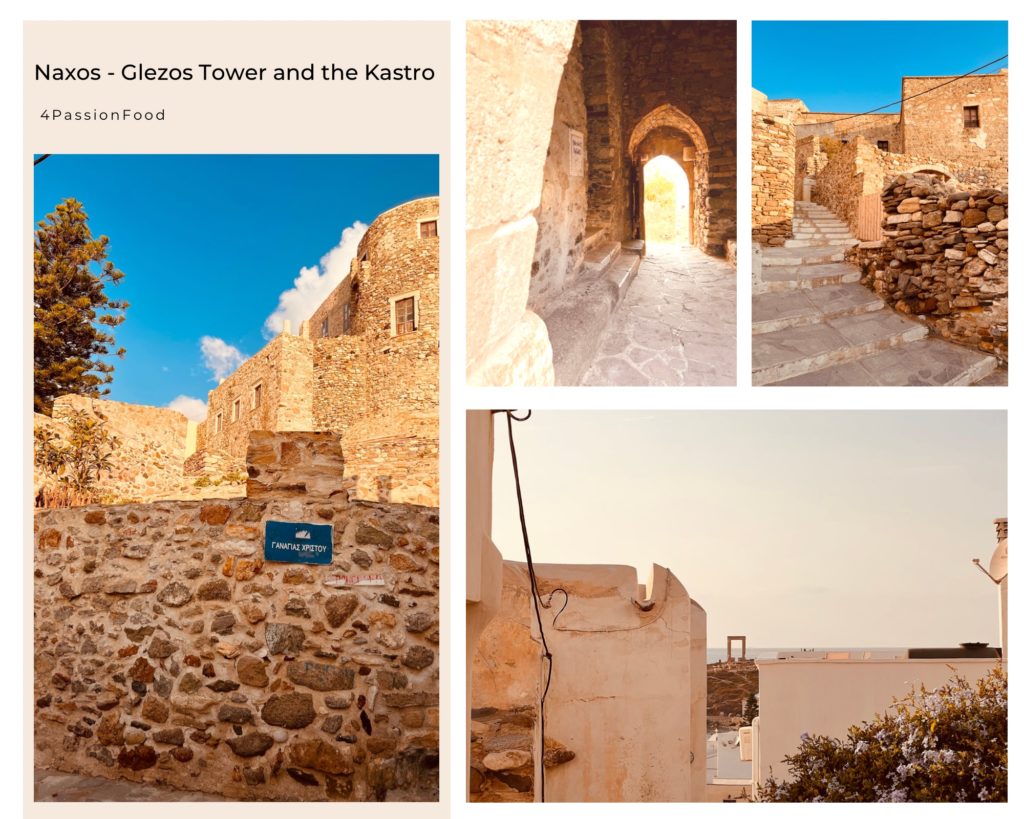 On the way to Kastro's central square you can't miss the catholic cathedral, an outstanding medieval monument all in marble the church and the floor, so gorgeous. The building dates back in the 13th century, also constructed under the venetian conqueror Markos II Sanoudos.
Visiting the villages of Naxos :
Visiting the villages is a must in Naxos, this is where you'll really experience the Naxian's life. We did Chalki and Apiranthos in one day by bus.
Chalki – Halki :
Chalki – Halki pronounced Khalki was once the capital of naxos. Located 45 minutes from Chora by bus, the village is known for its natural beauty, we weren't disappointed at all.
First thing we did once arrived to Chalki, was to follow the signs to Agios Georgios Diasoritis a byzantine church nestled amongst local farms. The whole path was breathtaking, mountains, olive groves on either side, fig and pomegranate trees everywhere.
We went back to town to have lunch at "Mitos Arternative Bar", very charming pizza restaurant – bar with a local bibliothèque, where we had pizzas, a baked Naxian feta with thym honey ,sesame and sunflower seeds, as we had a spanakopita, and in my opinion it was the best in Naxos.
We went after that for a walk to discover the town. One of the beautiful places to visit in Chalki is "Fish & Olive creations ", it's a very elegant gallery – store located in the heart of the town. Chalki is also known to be home to the Vallindras Distillery, which makes citron liqueur for which Naxos is famous.
Visiting Chalki was for us like travelling back in time, and I loved it.
Apiranthos :
After Chalki we went to "Apiranthos", it's a picturesque village with a beautiful name meaning "plenty of flowers". We visited "the Iperhon", the "tower of Zevgolis" a magnificent 17th century venetian tower well preserved, and the church "Panagia Aperanthitissa" which means "our lady of apiranthos".
Our visit that day was interrupted by rain. So time to go back to Chora.
Lay down and enjoy your day in the beach :
The island is also known for its beautiful beaches, white sand and turquoise water. So relaxing on the beach is definitely one of the best things to do when you are in Naxos.
We went once to Agios Prokopios, one of the most popular beaches in Naxos. After that we decided to stick to Agios Georgios which was 5 minutes walking from NaxosGrey11 where we were staying.
Laying down on a sun bed watching my kids enjoying their time at the beach, jumping in the waves, trying to catch small fishes with their colourful nets, and making new friends. That was exactly the vacation that my hubby and I wanted for them, and Naxos seems to be the perfect choice for a family vacation.
Where to eat in Chora ?
One of the focuses of this trip was of course food. Here are some highlights :
" To Elliniko " we had grilled prawns served with baked potatoes and vegetables, vegetarian moussaka, zucchini croquettes, Naxian cheese, greek salad and as a dessert the traditional greek orange cake " Portokalopita" which was the best in Naxos. (Top)
" Taverna – authentic greek cuisine", we had prawn with greek pasta orzo, Greek stuffed vegetables "yemista", fried calamari, bruschetta with tomatoes and marinated anchovies, backed veggies in tomato sauce "Briam", and of course naxian fried potatoes. (My favorite)
"Meze Meze " where we had seafood in tomato sauce.
Bossa where we had drinks and enjoyed sunset.
And the famous Naxos Bakery it was more for donuts and their amazing fluffy bread. Didn't like the baklava, and it's probably because I had better here in Dubaï.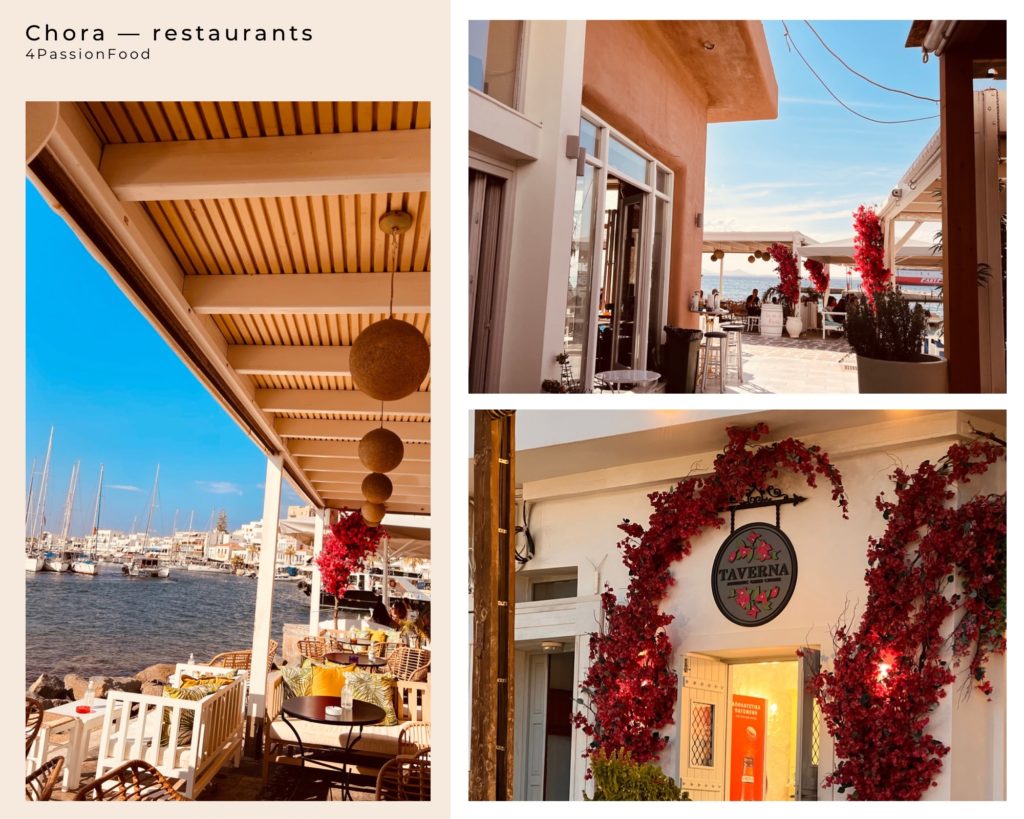 Before leaving Naxos, I had to stock up on greek products from "Saint Isidoros Galanado – Naxos".
We went from Naxos to Santorini by ferry where we spent 5 days (I'll share with you more details in my next articles). Naxos was definitely the island that stole my heart, it's quiet, peaceful, authentic and the food was so delicious and of course more affordable than Santorini. I got to experience the naxian's life which I think it suits me perfectly.