What a wonderful galette!! I loved it, all I have to say about this recipe is just do it.
This recipe is taken from "Falastin" coobook. Which I had already shared some recipes of it like :« open cauliflower pies – Sfiha», « butternut squash & saffron soup with caramelised pistachio and herb salsa », « lemon chicken with sumac & Za'atar », or this unforgettable « orange blossom, honey and Baklava semifreddo »
This galette is amazing. The combination of roasted beetroot, feta, ricotta, honey and thyme, is absolutely sublime, all the ingredients go perfectly together. All wrapped up in a flaky golden pastry, perfectly flavoured with chopped thyme and oregano.
Once cooked, the galette is drizzled with olive oil, honey and Za'atar. Serve it with a green salad alongside, and voilà, you have an amazing light meal.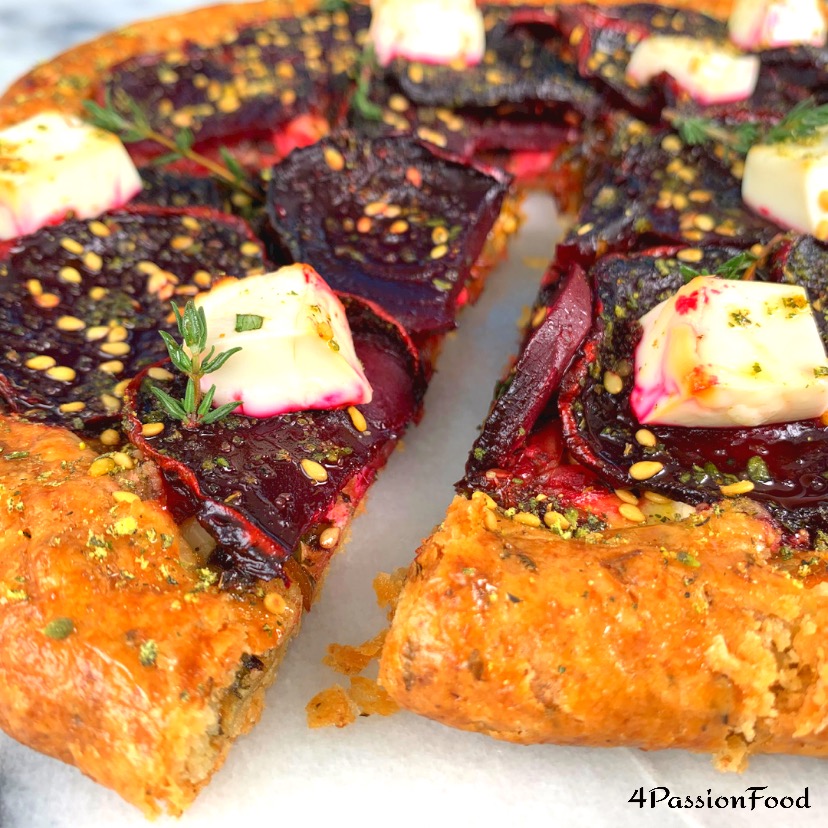 This galette is really simple. You have a quick and easy to make puff pastry, a ricotta filling with some feta, an incredibly delicious layer of caramelised onion and finally sliced roasted beetroots.
A mix of golden beetroot and purple one, looks great, but if like me you can't find the golden beet, just use the purple one which are the most widely available.
There are several preparations, it takes time for sure, but there are a lots of way to get ahead here. The beetroot can be baked and sliced a day before. You can also make the ricotta filling in advance and the onions too, the dough keeps well in the fridge for up to 2-3 days or frozen for longer.
So make everything in advance, assemble and bake the galette when you want to serve. The galette once assembled can wait in the fridge for a good few hours at least 6.
The perfect recipe if you go for batch cooking.