This savoury – sweet butternut, orange and sage galette is incredibly delicious. It has so many layers of flavours, the flaky rich pastry, the mascarpone garlic and shallots cream that serves as a bed for the roasted veggies drizzled with an amazing orange – maple syrup.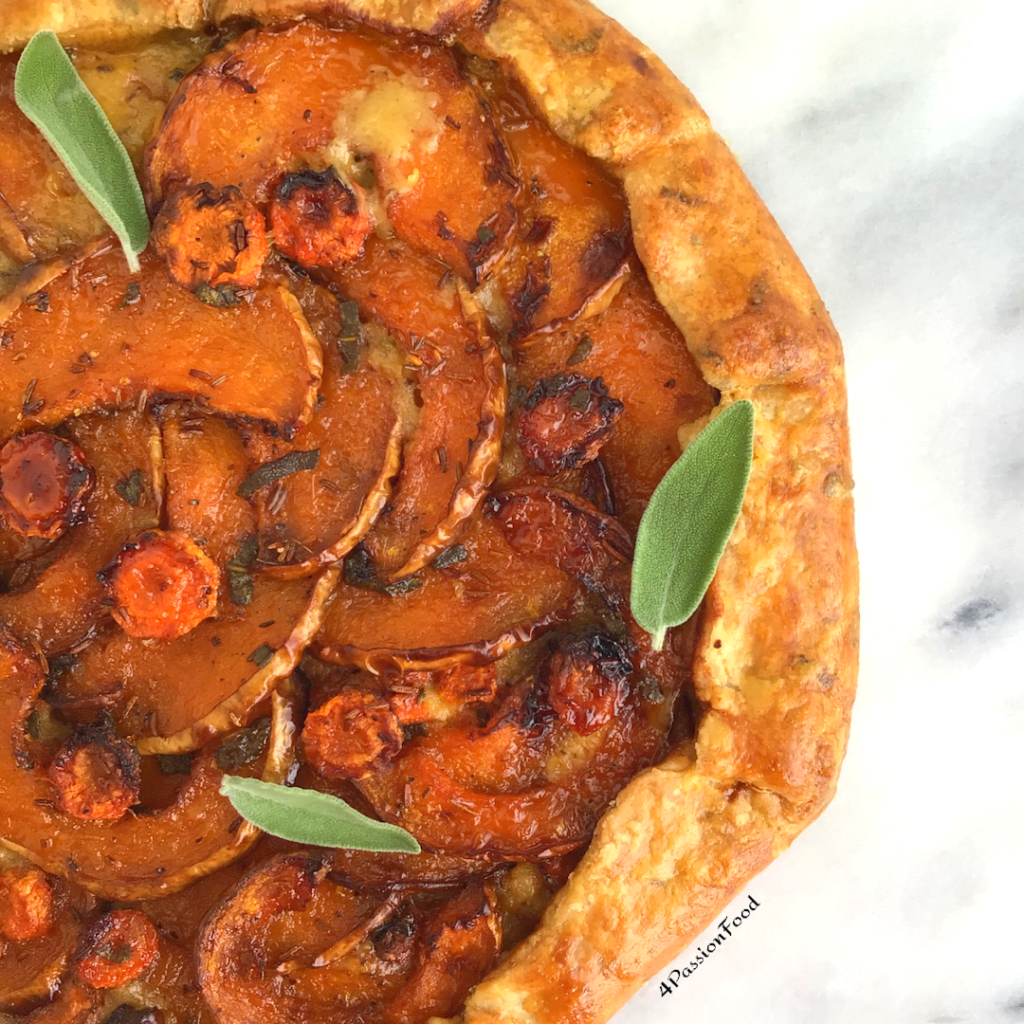 This recipe is from Ottolenghi's cookbook « Flavour », it's clearly one of the best sweet – savoury galette I have made.
How to make this sweet – savoury butternut,orange and sage galette ?
This galette does take some time to make but the flavours you get worth it.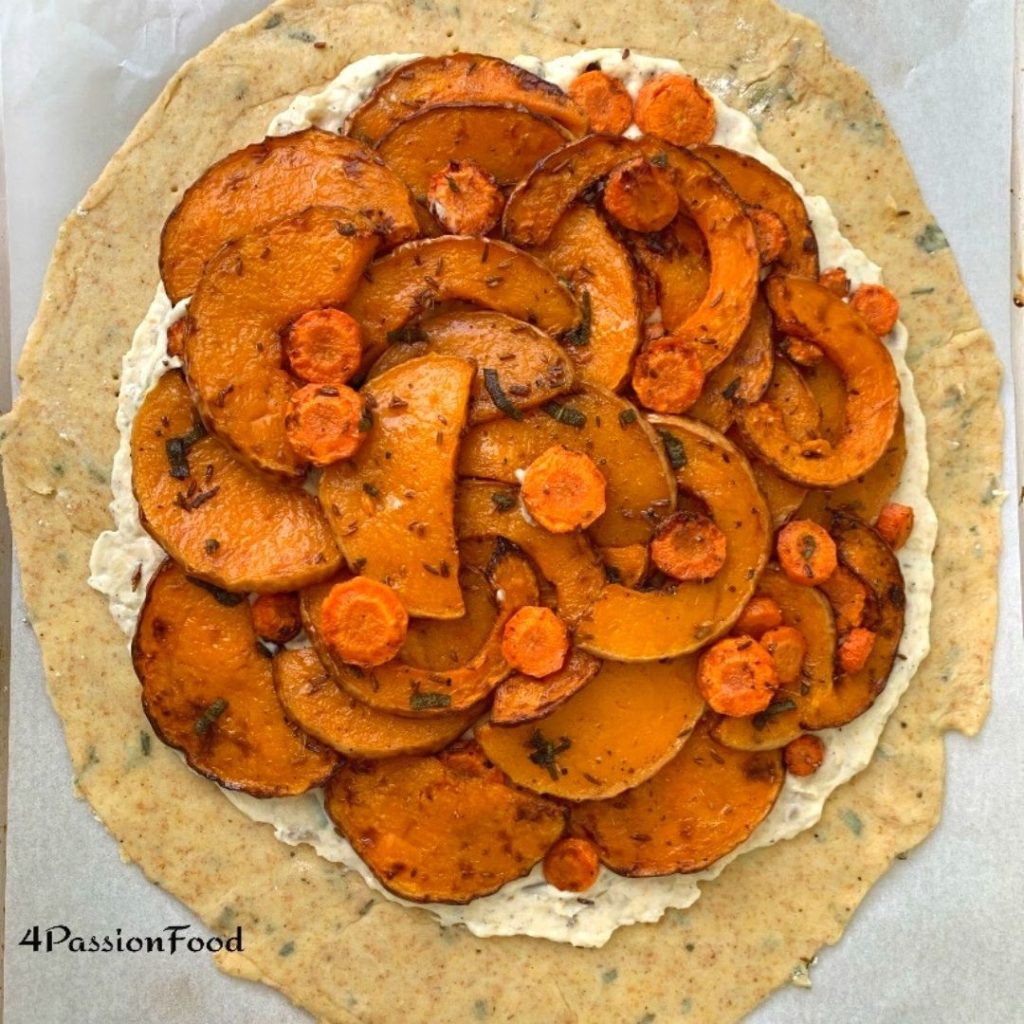 Like all Ottolenghi's galette recipes « Swiss chard galette, blue cheese and sumac », or « beetroot and feta galette with honey and za'atar » recipe from Sami Tamimi (Jerusalem co-author). The pastry dough is the star, it's flaky, rich from the butter and crunchy beacuse of the polenta. So double it and keep half in the freezer for other savoury bakes.
Meanwhile the dough is resting in the fridge, roast the butternut and carrot, with sage, olive oil, caraway seeds, salt and black pepper. Roasting veggies brings out all their flavours as well as their natural sugar which accentuates their sweetness.
The garlic and shallots are wrapped in foil and roasted separately. They will need a bit more time that the veggies.
Once the roasted garlic and shallots, are cool enough to handle, squeeze them out of their skins, and finely chop them. Add them to the mascarpone, along with the orange zest, chopped sage, salt and plenty of black pepper. This will be the base layer on the galette.
Next layer will be the roasted butternut and carrots, which are drizzled with an amazing orange – maple syrup which has a honey consistency. This glaze gives an amazing sweetness to the galette. Bake it on the rack positioned at the bottom of the oven. I had to cover the galette after 15 minutes. So keep an eye on it.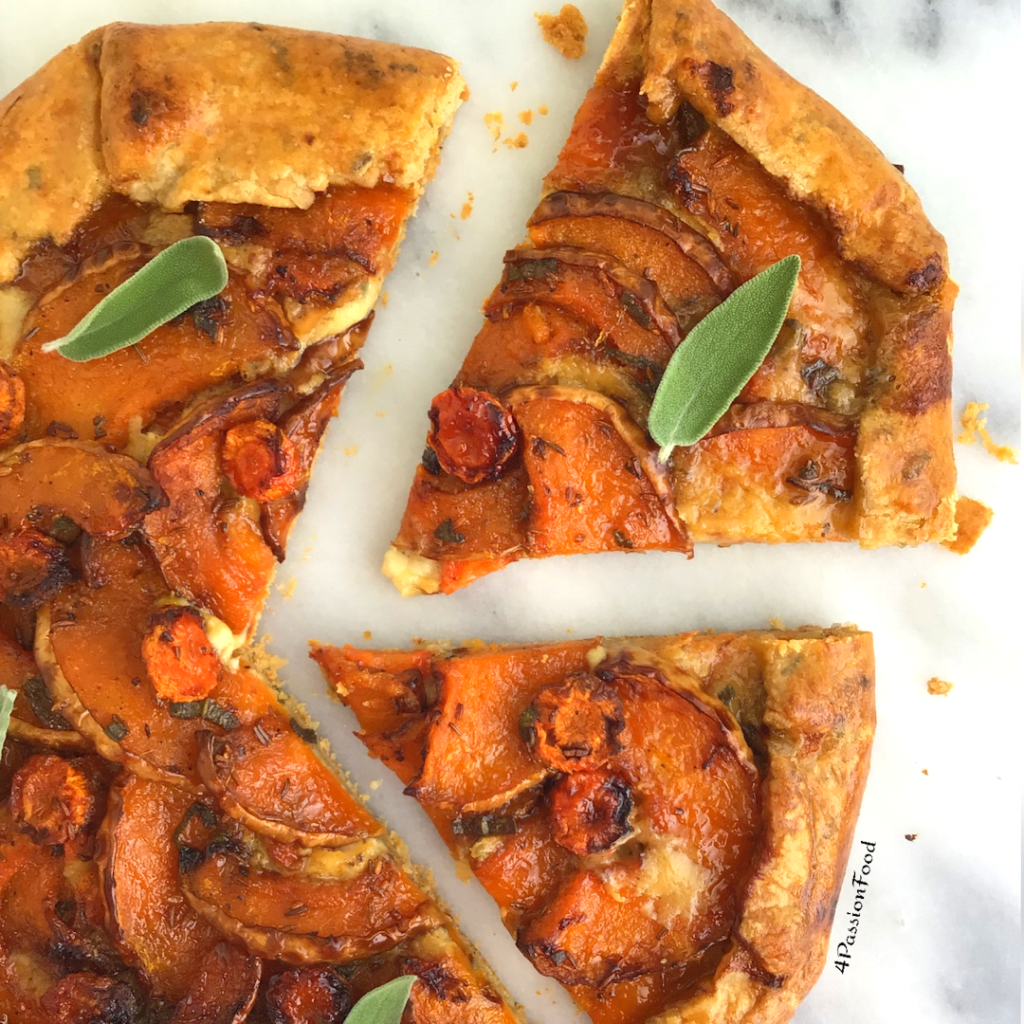 Scatter with the remaining sage leaves. Serve it as a starter or as a vegetarian main dish with green salad.