Hummus is probably the most versatile dip, is a perfect snack for any time of day. You can eat it as it is or serve it topped with meat, veggies or like this recipe that I'm sharing with you today. A wonderful way to eat hummus. It's not the authentic recipe of hummus for sure but it will probably be, if you try this.
The grilled mushrooms with the delicious marinade, works beautifully with the creamy hummus perfectly flavoured with confit garlic. Add a salad on the side and it's an amazing meal.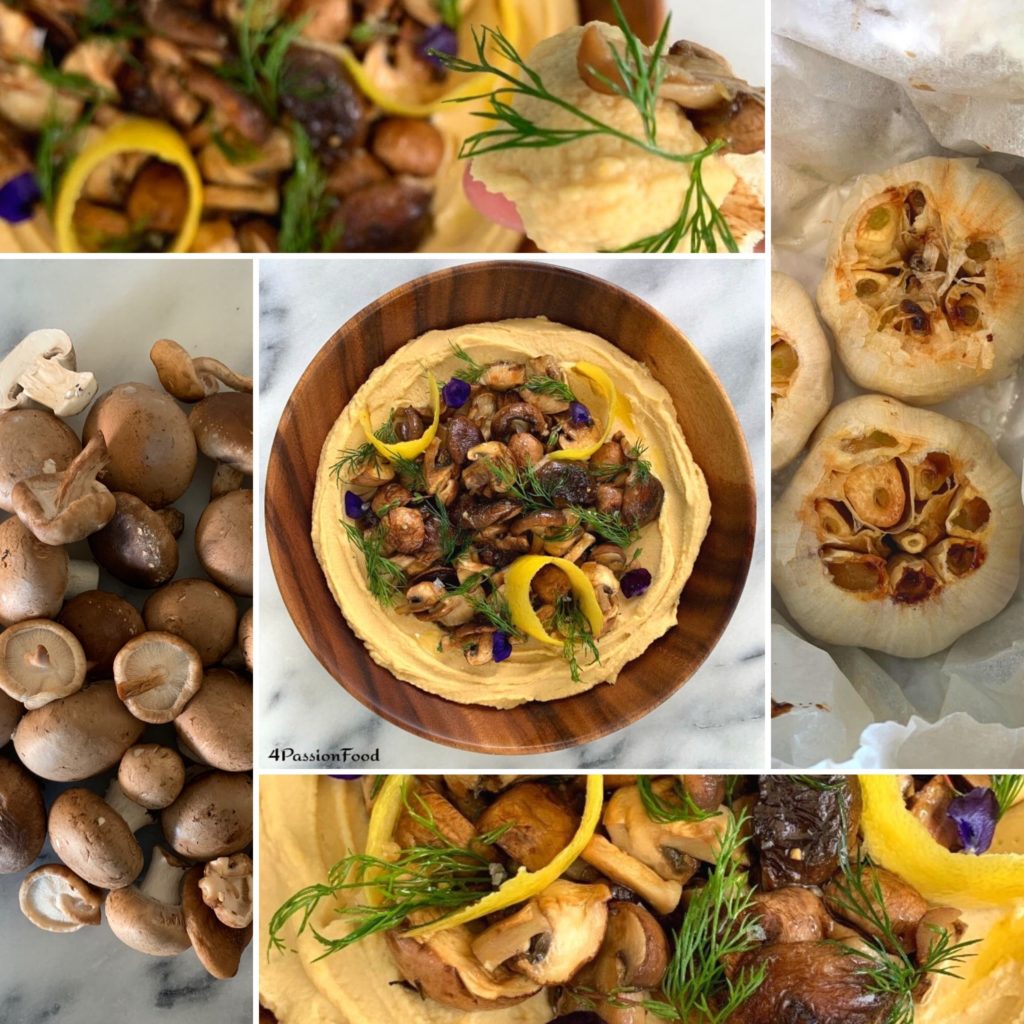 You can skip the topping and have a wonderful basic hummus with the confit garlic which makes it very special. If you find the garlic very strong and you don't like it. The confit garlic is the best alternative it boosts the flavor of hummus, which has a nutty and sweet taste, and the same time a subtle taste of garlic. I really loved it.
What does mean hummus ?
The word "Hummus, humous or houmous" comes from Arabic حمص which means chickpeas.
Hummus is a popular middle eastern dip – spread dish made from cooked or tinned chickpeas blended with tahini (sesame seed paste), lemon juice and garlic with a pinch of ground cumin. It's served with extra virgin olive oil and traditionally eaten with pita bread or Arabic bread.
This fabulous dish became very trendy even the healthy alternative of many other dips.
How to make a creamy, smooth hummus ?
Use freshly cooked chickpeas or if using tinned one, drain them and put them in saucepan, cover with water add some salt a pinch of ground cumin and simmer for 10 – 15 minutes to soften and heat through. Drain but save the water you will use it when blending the hummus, little at time as needed.
If you have time, take off the skin, it's not essential but it makes a difference specially if you are using the tinned chickpeas.
Add iced water or ice cubes when you blend the chickpeas, that will help to aerate your hummus and keep it light.
If you are not eating the hummus right away after making it, be sure to cover the surface with a cling film to prevent a skin for forming on top.
Usually don't blend the chickpeas with the olive oil, but you serve your hummus with a generous drizzle of extra virgin olive oil.
The recipe of the day :
The recipe that I'm sharing with you today, is from the new Ottolenghi book's "Flavors", co-writed with Ixta Belfrage.
It's easy to make and the results are perfect to satisfy any vegan and hummus lover.
First prepare the mushroom in this recipe will use two kind : brown button and
shiitake mushrooms, roughly torn in half and grilled until all sides have dark char marks.
Meanwhile make the marinade by mixing all the ingredients together: lemon juice, olive oil, maple syrup, flaked sea salt, freshly ground black pepper, thym, and finally cascabel chile roughly chopped. Add to it the grilled mushrooms. Set aside for 1 to 2 hours.
During this time make the hummus. First start with the confit garlic, because it will take 40 minutes to cook.
In a food processor, combine all the ingredients to make hummus, blitz until you have a smooth paste. You may need to scrape down the sides of the bowl a couple of time.
Spread the hummus on a plate, creating a large well in the center with the back of a spoon. Spoon the grilled mushrooms, and voilà!! Serve it with pita or Arabic bread.